Course Description
Our 40-hour pre-licensure course is approved and certified by the Massachusetts Board of Professional Licensure. It fulfills your education requirement and prepares you to take and pass the exam like no other course!
Also included in the course…
One course textbook which compliments the topics taught and very valuable to review with prior to the test
1/2-price repeat classes, space permitting, if you do not test within 2 years of taking your class
The opportunity to be hired with full tuition reimbursement by Michael's office
6 months of free online review videos taught by Michael
A casual and friendly atmosphere in a class with up to 25 students
Free parking all day and very convenient access to PUBLIC TRANSPORTATION
---
Syllabus
1. Approaching the Real Estate Examination
A discussion of strategies to help students prepare for and pass the test.
2. Property
A discussion of the characteristics, definitions, ownership of real and personal property as well the various rights and restrictions there are in connection with the ownership of real property.
3. Estates
A discussion of the different types of estates, various limitations on them, how they are created and transferred.
4. Condos, Coops, Timeshares
A discussion of the characteristics of different forms of property ownership.
5. Leasing
A discussion of the nature and characteristics of the residential and commercial property leasing business.
6. Deeds
A discussion of the various issues surrounding the nature, meaning, and transfer of title to real estate.
7. Real Estate Contracts
A discussion of the nature, meaning, and key characteristics of the many different contracts used in connection with all variety of real estate transactions.
8. Financing
A discussion of the mortgage lending environment, including the process of obtaining a mortgage loan, and the nature of, and relationship between the primary and secondary mortgage markets.
9. Agency Law
A discussion of the relationships between real estate brokers/agents, and real estate consumers.
10. Brokerage Operations
A discussion of the relationship between brokers and their agents, including issues of how, when, and why compensation is earned in the real estate business.
11. Real Estate Value & Appraising
A discussion of the core principles and various methods of estimating the value of real property.
12. Fair Housing & Consumer Protection
A discussion of the history of housing discrimination and the federal and state which laws which have been enacted to protect consumers from it.
13. Environmental Protection
A discussion of the nature and characteristics of the various environmental issues confronting owners of real property and the state and federal laws enacted to protect the environment.
14. Massachusetts License Law & Real Estate Ethics
A discussion of Massachusetts state laws and the code of ethics governing the practice of real estate.
---
Course/School Questions
How the Course Works
All classes begin at 9am in Michael's Somerville location at 490 Broadway. Please be prepared for 4 ten-hour days. In our Course Schedules section you will find different sessions to choose from. To satisfy the Board's pre-licensure requirements, candidates are required to attend all class sessions. Upon completing the course, you will receive a stamped booklet that certifies completion of your pre-licensure education. Then study and pass the exam!
---

About our Instructor, Michael Albano
Michael draws upon many anecdotal real estate experiences and uses a fast-paced PowerPoint presentation-driven format to create a highly interactive educational experience sure to increase your retention. Michael's approach also includes studying and test-taking strategies to prepare you for your exam to make sure you pass.
---
What Others Say About Us…
"I loved this course.It went by fast and was very informative. The instructor was very down-to-earth and broke down the real estate world in a way that was easy to understand and efficient." – Victoria F.
"Michael and Eden do a great job in preparing you for the test and the real estate business. Anyone new to this business can benefit from their matter of fact approach, test taking strategies, business integrity and passion for all that is real estate. Thank you Metropolitan Real Estate School for preparing me for this business."– Jim C.
…and a few words about our Online Continuing Ed course
"I would highly recommend to anyone! It beats going to live classes 100%…Glad I chose to select the Internet module – nice addition & extremely interesting…I will highly recommend this site…tks!" -Mary
"Great job, Mike, never thought that I would even want to take a course "on line" as I always enjoyed the classroom. However, your delivery of the material is excellent. You make some dry stuff actually sounds fairly interesting!!" -Marge
---
Our Official School Certificate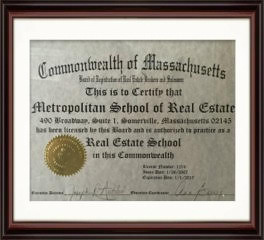 ---
Additional Resources
$55 Online Continuing Education 12 credit hour course
Massachusetts Board of Professional Licensure
Massachusetts Association of Realtors (MAR)
National Association of Realtors (NAR)
Schedule your exam date